In May 2017, EDUCULT was commissioned by the Arbeiterkammer Wien, with the interim evaluation of the school project "Wir machen Schule". Already in June and July desk research and a...
[more]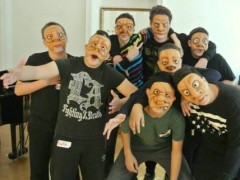 The EU-project Schule INKLUSIVE Kulturelle Bildung came to an end and we are happy to share the outcomes with you. Based on the experiences gained through the project,
[more]
The Germany wide survey of all members of the regional associations of independent performing arts, as well as the main part of the interviews with stakeholders in the detailed analysed...
[more]
This year the multilingual rhetoric contest "SAG'S MULTI!" takes place for the ninth time. The contest was launched by "Wirtschaft für Integration" and aims at showing the potential of multilingualism...
[more]
Take your students to Vienna! EDUCULT offers a Summer School providing a participative and discussion-based perspective on the Viennese cultural scene. The students will meet artists, cultural managers and cultural...
[more]
With the title Silent Dialogue the artists Lara Erel, Verena Zangerle and Osama Zatar will present some of their current works in the Salon of Cultures. We invite you all...
[more]