EDUCULT has been engaged by the Federal Government Commissioner for Culture and the Media (BKM) to develop systematic and plausible justified recommendations and how they can effectively contribute to the...
[more]
EDUCULT was commissioned with the evaluation of the project "Kunst und Spiele" (Art and Games) by the Robert Bosch Stiftung. "Kunst und Spiele" is a program that aims at developing...
[more]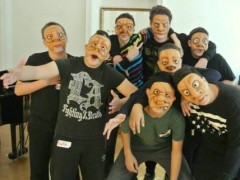 The Strategic Regio-Partnership is dealing with questions on the implementation of cultural education in schools, both from the perspective of structures and practice. The partnership involves schools, school administrators and...
[more]
In 2015/16 "work::sounds" will take place for the fourth time in Vienna. Pupils of vocational schools are invited to participate in order to investigate different workplaces. The aim of the...
[more]
Take your students to Vienna! EDUCULT offers a Summer School providing a participative and discussion-based perspective on the Viennese cultural scene. The students will meet artists, cultural managers and cultural...
[more]
The workshop "Culture and Arts Education in Kosovo" is held in the context of the International Conference "Culture and Education", organised by the Ministry of Culture, Youth and Sports (MCYS)...
[more]
On 22 April 2016 the University of Applied Arts Vienna will host the international conference "Social Inequality and Cultural Policy". It represents a follow-up of the conferences
"Peripherie.Macht.Kulturpolitik"
...
[more]
Under the title SHIFTING MEMORIES the artists Adel Dauood, Tina Greisberger and Philipp Renda present some of their current works in the Salon of Cultures. Besides the approved cooperation with...
[more]