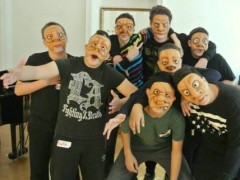 The Strategic Regio-Partnership is dealing with questions on the implementation of cultural education in schools, both from the perspective of structures and practice. The partnership involves schools, school administrators and...
[more]
EDUCULT was commissioned with the evaluation of the project "Kunst und Spiele" (Art and Games) by the Robert Bosch Stiftung. "Kunst und Spiele" is a program that aims at developing...
[more]
In March 2015 EDUCULT was commissioned with the evaluation of the project. Round table discussions with the management, interviews with panellists and experts, quantitative audience research and social-media analysis were...
[more]
In 2015/16 "work::sounds" will take place for the fourth time in Vienna. Pupils of vocational schools are invited to participate in order to investigate different workplaces. The aim of the...
[more]
This year the multi lingual rhetoric contest "SAG'S MULTI!" takes places for the seventh time. The contest was launched by "Wirtschaft für Integration" and aims at showing the potential of...
[more]
Take your students to Vienna! EDUCULT offers a Summer School providing a participative and discussion-based perspective on the Viennese cultural scene. The students will meet artists, cultural managers and cultural...
[more]
Under the title SHIFTING MEMORIES the artists Adel Dauood, Tina Greisberger and Philipp Renda present some of their current works in the Salon of Cultures. Besides the approved cooperation with...
[more]