The Germany wide survey of all members of the regional associations of independent performing arts ended at Easter. In total, 290 members participated in the online survey. It focussed on...
[more]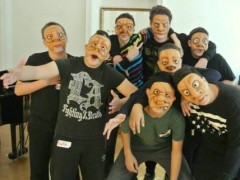 Since 2015, EDUCULT has been part of the Strategic Regio-Partnership, which deals with questions on the implementation of cultural education in schools, both from the perspective of structures and practice....
[more]
EDUCULT was commissioned with the evaluation of the project "Kunst und Spiele" (Art and Games) by the Robert Bosch Stiftung. "Kunst und Spiele" is a program that aims at developing...
[more]
From October 2016 to May 2017, EDUCULT and the Chamber of Workers and Employees Vienna (
AK Wien
) offer the project "work::sounds" for schools combining music education, aesthetic research...
[more]
This year the multilingual rhetoric contest "SAG'S MULTI!" took place for the eighth time. The contest was launched by "Wirtschaft für Integration" and aims at showing the potential of multilingualism...
[more]
Take your students to Vienna! EDUCULT offers a Summer School providing a participative and discussion-based perspective on the Viennese cultural scene. The students will meet artists, cultural managers and cultural...
[more]
With the title Silent Dialogue the artists Lara Erel, Verena Zangerle and Osama Zatar will present some of their current works in the Salon of Cultures. We invite you all...
[more]