EDUCULT Talks & Wimmer's Weekly
May 23, 2017
Oleg Soulimenko is a Russian performer and choreographer living and working in Vienna and Moscow. He graduated in construction engineering before he decided to become a dancer. In 1990 Oleg Soulimenko founded the International Laboratory Saira Blanche Theatre. Their work has been shown throughout Eastern and Western Europe and in the United States and has evolved a deeply sophisticated, strong and provocative performance practice of improvisation. In 2002 Oleg collaborated with Tanzquartier Wien organizing and creating the project "East meets West," an artistic dialogue between Russian and Austrian artists. In 2010 with brut Wien he originated the exchange project "Music here, Music there: Vienna ­Moscow" between Austria and Russia, which resulted in showings both in Moscow and in Vienna. His performances were presented in international venues and festivals such as Festwochen, Tanzquartier Wien, brut Wien and Impulstanz in Vienna, Performa in New York, steirischer herbst in Graz, Sophiensaele and Tanz im August in Berlin, the Kunstverein Hannover, Theater Festival Impulse in Germany, Kaai Theatre in Brussels, Southern Theater in Minneapolis, Baltic Circle in Helsinki and Kunsthalle Wien. In 2012 Oleg Soulimenko presented the impressive production "Made in Austria" at the festival Wiener Festwochen. Oleg's new piece LOSS will be presented this year at Impustanz.
EDUCULT: So my first question to get to know you, is why did you come to Austria?
Oleg Soulimenko: It really happened by chance. It is a pretty long story, and I'm working on a documentary about this. It began in the 90s, specifically in 1993, when I was a dancer and we received an invitation. I actually studied engineering construction, and I used to work for a military factory with lots of discipline. Then suddenly my life changed, and I became an artist with more freedom, more space, more time and a different perception of life.
Then I entered certain experimental theaters and I was quite curios about new forms of theater, and I also continued to study dance and performance art during this time, but it was more self-education. Then my friend and I received an invitation to a symposium in Italy, but we couldn't get a visa for Italy because the invitation actually came from Germany, and they couldn't provide us with a visa. In the 1990's it was already easy to get outside of Russia, but not easy to enter western countries.
So we didn't get visas for Italy, but a friend of mine with whom I decide to go to Italy said that we could cross the border through the mountains instead. We ended up buying illegal visas to Austria, arrived in Vienna, and we made it through the Alps to Italy. Our first evening in Vienna we stayed with friends of friends and asked them for recommendations for an alternative place. They recommended the WUK, and there happened to be a free performance from Prague. It was kind of conventional, but okay with dancing and not as much being done with the stage. We were super naive, it was only 1994. We came and told them we would like to perform on that stage, as it had many features we did not have in Russia and because there was not much experimentation being done there. So we found the director, and he said he wouldn't be able to organize our show soon, but he said let's see if you have a video to show. So we gave him video material, and he liked it, and a year later we were invited to come perform. Many people really liked what we did, and it resulted in artists form Vienna asking to collaborate with us.
EDUCULT: At that time you were in an illegal status here in Vienna?
Oleg Soulimenko: So the first time, what we did was we went to an agency in Moscow, which was legal but the visas we bought were illegal. The agency we went to, we later found out, is one where prostitutes usually go, and that they had connections to the Austrian embassy or the travel agencies there. So we got tourist visas and had to pay extra money for this. Usually you have to go to an embassy but we did not. The second time we came to Austria with a proper invitation and we got our visas at Austrian consulate in Moscow.
EDUCULT: So when you first came you made initial contacts, returned to Russia, and then came back a year later for the performance. In Russia, did people have an idea what the dance scene in Austria was like?
Oleg Soulimenko: No, not really. Most Russian artists knew about America, about Japan, France or Germany… Maybe once or twice I had seen an Austrian dance performances in Moscow before. Later when we came for the first time, I was very open, and I tried to invite many people from the experimental dance scene of Vienna to come to Moscow. I invited people to teach and perform together, we didn't have money but we could offer a studio and a place to stay. And they could get a bit money from students. Because people were so curious about Russia, many of them decided to come and probably got support from the Austrian state. Many Austrians were interested in what we were doing in Moscow, but not really anyone from an institutional level in Moscow.
Officials watched our video and to them it seemed like we were doing some kind of dirty dancing or something like this. From the Soviet Union time, we were extremely tired of traditional theater and formal beautiful dance, and we wanted to break out of it. I do not think that Russian official culture institutions were ready at that time for something unconventional, experimental and strange but Vienna did seem to have this interest.
I remember the first time we performed at the "New Dance/Work in Progress" festival in the WUK in yard, not at that beautiful stage that we saw on our first time in Vienna and people said things like wow "The Russians are coming!" Then I met a girl here, and I asked her if she would come and live with me in Moscow. She said yes, and came for three months in winter, but after the heavy Russian winter life and art experience she decided no! So for about 3-4 years I was traveling between Moscow and Vienna always with artist visas, which were always quite difficult to get, and then we eventually decided to get married and it became easier.
EDUCULT: So an Austrian Russian connection came to be?
Oleg Soulimenko: Yes between art and love I would say.
EDUCULT: You give the impression that you came to Vienna and just jumped into the scene of contemporary dance, and then swam like a fish, without any hesitation or problems. It seems like you immediately fit right in.
Oleg Soulimenko: Well, not exactly, it did take some time. At that time I didn't know very much, especially about institutionalization, and I never really knew how to apply to get support for art work. At that time we were into improvisation, and through people and groups with similar interests in the field, we eventually got invited and were able to get more possibilities. In Russia if you organized a performance, first you did not get any financial support, second you have to take care of and carry all of the equipment yourself. Here you come to an institution, they have lights, technicians, they invite the public, and often they can even pay! This way you have more time and strength to concentrate for the process of creation. I was able to realize that the work we were doing was interesting for people. In Moscow with 11 million people at that time there was not one institution responsible for contemporary dance. I had my studio in the Technical University, and maybe twenty or thirty people would come to watch our performance, and we wouldn't sell tickets or ask them to pay. I'll, say Austria was quite open for us and helped us to connect.
EDUCULT: If you look at the scene today and compare it to the 90s what changes do you see? Especially looking at the funding and cultural policy aspects. What major developments have occurred?
Oleg Soulimenko: At the end of the 90s and at the beginning of the new millennium the biggest changes came. Primarily from Tanzquartier here in Vienna, when Sigrid Gareis was the intendant for eight years. What she did with her team was to invite quite interesting international artists, some of them were collaborating with the local scene, and Vienna became even more open. Then dance itself also started to change a lot—there were lots of collaboration with visual artists, scientists, architects, theoreticians, and so on. So dance became more than just a visual and physical expression. Dancers and performers from throughout the world, and especially Europe, began working together, from Germany, France, Poland, Baltic countries, Japan, and they became very involved in molding and changing dance here.
EDUCULT: How is your relationship with the audience here? You mentioned in Moscow you had only 20-30 people. Is there an interested, elaborate audience here?
Oleg Soulimenko: Yes, they are definitely here—smart and analytical. Maybe I am comparing it too much with Berlin and Brussels, but there could still be more audience here. But the audience that we do have is very interested in what is happening in contemporary dance and performance art.
EDUCULT: For some time I was quite interested in impulse dance, and tried to organize European cooperation. For you, you mentioned that this also gave you the chance to look more analytically at the Austrian case. Could you tell us a little bit more about that.
Oleg Soulimenko: Actually at first it was a cooperation with Festwochen and I presented it in the cafe at the Donauturm at 165 meters height, then I did a video installation at the Austrian pavilion in cooperation with Impulstanz, then I adapted the performance for the black box in brut Wien and finally got together with Rosemarie Poiarkov, where we did radio play on Ö1.
EDUCULT: I am also really interested in your assessment of what "Made in Austria" means. What are the specifications of the country or Austrian society?
Oleg Soulimenko: I initially had the idea to try and find people like me, people who come from the east, west, north, and south to find their happy place here. We started thinking in terms of clichés, what does it mean simply to be happy or what kind of place is Austria to live in. Why people could be happier here then somewhere else? For me, coming from Russia, I was very glad to do what I wanted to do here of course.
We found nine people with different stories who had come here in different periods of their life, from different places, and I learned that when they came, they found very different things here. For example one person found very sexy or interesting women or men in clubs, someone found a family, someone found work where they could express themselves. There was a man who was virgin until he was 27. Here in Vienna he married and created a perfume brand that makes individual scents for each client. People can come to him and ask for a scent for a particular purpose, seducing someone, being successful, etc. Once he even did "Austrian perfume" for an exhibition, where the three main components he wanted to express were innovation, culture, and nature. If you were to ask me what Austria is for me, and this is something I have thought a lot about, but for me it is made up of so many small ingredients.
EDUCULT: I find it fascinating, but I also want to make sure I completely understand. So you told a story about different people who came to Austria in search of a place to work? The idea of migration might not make any sense at all. Are we talking about migration or about different individuals who decide they needed to do something together with each other. Is the term migration of importance for you at all?
Oleg Soulimenko: No, for me I have no personal relation to this word. I often hear the word "migrant," and that word is very isolating. It makes you feel like you have to see the world through certain lenses like through a cage or a certain border. Sometimes I feel like when I am in a shop, and I start speaking in my broken German, and then I feel a reaction that word migrant comes. But if I go to an exhibition or to a gallery there I feel like there aren't any borders. This kind of melting depends on what situation you are in.
EDUCULT: Two things I learned: first, being a "migrant" is really kind of an artificial concept, where others project who you are. But you have no need to use that term at all, and it is also not useful for your artistic work.
Oleg Soulimenko: Absolutely. Also with art and dance now, we are talking less and less about where you are from—your nationality.
EDUCULT: Isn't that what you experienced at hope in Russia or others in India, aren't your experiences there an important resource for your artistic work? Or is it more about you as an individual now and your cultural background is irrelevant now.
Oleg Soulimenko: That is quite a difficult and complex question. Sometimes I feel that there are certain periods where I need it, but sometimes I feel that I don't because it sometimes projects on me or protects me as an artist, where I can say things like: "I am Russian. I was born and I grew up there." Now I say that I am an artist, living and working in Vienna. But at times where I reflect and try to understand my work, my strengths, then I look at my background and how it has formed me. So sometimes I need it to see why I might do things a certain way, and at other times I want to leave it open, where it doesn't matter as much. Sometimes people also have clichés. With my work, I often jump to different styles or examine traditional storytelling forms, then I play with my biography. When I work with abstraction I try not to refer to my background.
EDUCULT: Looking at politics, migration has become a major issues with right-wing populists in Europe and Mr. Putin. How do you experience this political discourse going on right now in Austria, and in other European countries like France and the Netherlands. Is this an issue for you at all or in the artistic world does it not carry as much significance?
Oleg Soulimenko: I am not influenced as much by this discourse, but I am touched by the migrant situation. I try to understand and for me there are still a lot of open questions. Many of my artist friends here are very empathetic, they help, discuss, protest. With my Russian friends, especially who live in Russia, I would say over 70 percent view the situation negatively. They say migrants come, they want to destroy Europe, why do we let them? I was curious to know they did not want to support those who had horrible experiences and were fleeing war. Looking at Russia after the First World War many officers and aristocrats fled to Europe too, because they would have been killed by the Bolshevik. They say wow, the situation is very different. You discuss about things, but many in Russia they remain very suspicious of letting Arab people come to Europe. They have a very static picture of Europe and they struggle to see it changing.
EDUCULT: But you personally do not feel affected by this political discourse and if Hofer would have become president, would that have impacted your working conditions here?
Oleg Soulimenko: Absolutely. I think there were certain moments where I thought this could be very difficult or even dangerous. But this feeling was there already for the past 7-9 years. This feeling of being a foreigner, that I might not be welcomed. First when I arrived here I didn't get any support for my projects. But I was invited to collaborate with some artists and to perform in festivals. Then when someone told me about this possibility, I was really surprised that I could get support even as a Russian who had been living here not for so many years. Now I am sometimes supported from the state to travel abroad to present different projects, which is a huge opportunity, especially when compared to Russia. But in the last years I feel that Austria could become less open, that the focus is more on supporting Austrian born people. There was a festival in Germany I actually got a call that they would have liked to invite me, but they preferred to take an Austrian instead at the end because then they got supported from the Austrian state. This showed me that times are changing, and this will make it hard, with right-wing politicians, and leads to fear that as an artist I would not able to survive.
EDUCULT: I would really like to learn more about the past in Russia in the 80s-90s when there was an elaborate, but traditional dance scene that you tried to change. Did contemporary modern dance earn a different status since then?
Oleg Soulimenko: I wouldn't say that the scene, but several individual choreographers, dancers, performers have become more progressive. The challenge though, is that they do not get support, funding—there is no infrastructure for them to be visible. There is a theater "mafia", where the tradition of narration, which is clear for audiences to interpret, is the standard. Experimental abstract works open to interpretation are not the norm. I think this has even gotten worse in recent years politically. This open, democratic way of thinking for yourself has not been welcomed in Russia recently.
EDUCULT: On the other hand, Moscow is a huge city with so many international connections, and one might think in principle that this contemporary audience would be receptive to modern dance.
Oleg Soulimenko: At the very end of the 90ies and the beginning of the new millennium this seemed to be starting, as private funders, like the Ford Foundation, or the Russian oligarchs started to make foundations, and a little state support was able to flow in. But in the past few years even this little bit has been limited with pressure from the state and the Orthodox church.
EDUCULT: So the policy approach has been changed then?
Oleg: Yes, and as a result there is not enough infrastructure to support contemporary dance, even though many young people crave it. They get the opposite of help—they are hindered. One of my friends was invited to organize a kind of alternative infrastructure last year, and she was able to survive in a studio by paying less rent and making different programs related to dance there, collaborating with contemporary music and performance art and educational programs. Then the people who have power came, and took over the place. They have so many deep connections to and now use a space for commercial things. And this is just one story from thousand similar ones.
EDUCULT: I am not sure if you know Teodor Currentzis, with his island. He was able to produce such extraordinary productions there, and now I have the impression that if you live far away enough from the center it can be possible. He is becoming a star with his MusicAeterna.
Oleg Soulimenko: This might have been the case seven, ten years ago. I know, that the gallerist Marat Gelman who moved to Montenegro to organize cultural projects a few years ago had connections with Perm. He curated in the Perm Museum of Contemporary Art. 7 – 10 years ago it was quite a good time. There was a lot of money from oil. Some mayors started thinking about how they could make their city "sexy." I do not think that this Museum of Contemporary Art functions the same way now even though it was popular, and for people who try to work with contemporary art, it has become harder.
EDUCULT: Let me ask you about your future perspectives. Do you want to stay here in Austria permanently, or do you hope to go back to Russia in the future if things change? Or maybe you are going day by day?
Oleg Soulimenko: Even just a few years ago I thought I would return back to Russia, and I was still traveling there about three to four times a year. The audiences there were asking questions that were grounded in real life experiences; here going to see performances is just another routine, like going to the restaurant. There is no infrastructure there, but I saw so many possibilities. But with Russia today I have the feeling that there is no future for this country, unfortunately. Looking at the war with Ukraine, something is wrong with the country. I do not see myself there anymore. This has been emotional and hard. The nationalism and patriotism, very traditional forms of art take over again, I ask myself what is wrong with Russian culture? Many want the power, think Putin is making Russians strong again, that the people can stand up for themselves now. I see very few good scenarios left, either internal wars breaking out inside Russia, or complete totalitarianism.
Now, my life situation has also changed. I have kids here, I have an Austrian girlfriend, and in the meantime Austria has become a second home. Sometimes I do think about the possibility of living somewhere else, but the city has a magnetic pull—the way of life, the infrastructure, it is the most privileged place that I know.
EDUCULT: So I learned that you see more of a future here than there, because of the circumstances.
Oleg Soulimenko: Yes, both in terms of the political and social situation. A decade ago I had hope that Russia would also get in on this movement of becoming more progressive and open. If you travel 300 miles from Moscow and see the nature, countryside, cities – the strength is there. Then I talk with local people, and they are convinced from the TV that America wants to come and steal their natural resources and that Europe doesn't have any more spirit and that the Russian soul is very unique. They watch TV and believe the simple propaganda.
EDUCULT: I think it was especially interesting how you relativized the migration aspect in art. You might have a backpack so to speak, but it is irrelevant to your artistic production.
Oleg Soulimenko: What do you think about this? About ten years ago, and when I was in America, there were artists from France, Germany we never talked about this, and they don't really have these terms. No one was thought to be different because of where they were from. But here it seems to be more important, right-wing populists seems to bring this idea back.
EDUCULT: It seems to be a political construction to find division in society. They want to give some people this sense of security or defense.
Oleg Soulimenko: I remember with Schengen, the Euro, people were surprised. Maybe they were not ready. We did not need to have a passport to fly inside Europe. The borders disappeared. Maybe this was too quick for some people, which gave them feelings of danger and made them want to bring the borders back.
EDUCULT: My interpretation is that we have this kind of fundamental eastern and western identity. This had an iron curtain between them, and when we ripped it down, an enemy died, and we were glad. But then people wanted to know, well who are we against now? Who is the new enemy? And Islam has become of particular importance in this respect. Now with refugees coming from different countries, and the fundamentalists who commit acts of terror, they give this sense now of being the new enemy. This seduction of politics is to build up their profile by having an enemy to speak out against.
Oleg Soulimenko: Why do we need enemies? In art you need to understand yourself through looking and comparing to the other.
EDUCULT: Yes, we need the "other." And you are an "other." But I can decide to be enriched by you and my conversation with you—or I could decide I feel frightened and threatened by you.
Oleg Soulimenko: And we know frightened people are easy to manipulate.
EDUCULT: What really has happened, with globalization with the enormous capitalism, technological developments, they have produced huge social change and huge insecurities. Now they look for people who are responsible for this. This can be looked at either in a positive, opportunity way, or in a destructive way.
Oleg, I thank you so much for your time! Good luck to you, and I can't wait to be in the audience in your next performance at the Leopold Museum on August 10th and 13th.
May 17, 2017
Thoughts on the publication of a new European Commission study on Audience Development
By Michael Wimmer
Recently during a rehearsal in the Burgtheater a stressed, young director burst out: "I hate the audience." And far and wide, no one had opposed this. Quite obviously this young hopeful, with his aggression against those for whom he produces art, is not standing alone.
Perhaps my fallacy already lies in the attribution of how a theater producer like him would make theater for somebody. It is much more likely that this counterpart does not even exist in his imagination (or, at best, in the form of a few selected critics). Rather he is concerned with the art itself, which would have to stand on its own, and for whose production, spectators are regarded as bothersome, at best.
Art as a Matter of Affirmation or as a System of Communication
Art sociologists, such as Arnold Hauser who wrote his now classic The Social History of Art and Literature over 70 years ago, have sparked a broad discussion about the interrelated relationship between art production and art reception; the idea of the pure work of art, which has not been tarnished by viewers, is celebrating a comeback in many new ways.
Unfazed, a traditional concept of the artist still stands at the center of a cultural sector, which is having difficultly anticipating the future development of art as a communication system. In such a logic, art would have the task of combining the two groups of actors, production and reception. In the meaning of a work of art, which first becomes meaning through the eye of the beholder, both sides are equally responsible for the fact that a shared artistic sensation can occur.
Good artists on stage know about this form of reciprocity; they rely on that feeling of shared enthusiasm. Erwin Wurm, who recently exhibited at the Austrian Biennale Pavilion, also tries to involve the audience actively in the process of creating art in his On-Minute-Sculptures.
Halb zog sie sie halb sank sie hin (Goethe)—The Focus Shift of Cultural Politics
Cultural politics has only cautiously reacted to the creeping spotlight-shift from the ruthless art defenders to those who are starting something. Nevertheless, in the last few years, with the motto "Vermittlung" (mediation), a slight tendency can be observed in the direction of a conceptual re-establishment of the relationship between art production and the reception of art. Not least because of the growing pressure of a right-wing populist suspicion of the elites (we can remember the election campaign of Norbert Hofer, who spoke of an out-of-touch "Hautevolee"), it seems to cultural policy makers that we are dealing with a symptomatic problem of democracy here; in the long run this problem cannot be escaped by issuing the statement that art is not democratic. Therefore, it is high time to put those who have previously been considered as a necessary evil in the audience, at the center of cultural-political interest.
Audience Development on the European Agenda
Against this backdrop of such a cultural-political shift of interest, it follows that the European Commission has made "Audience Development" a focus within the framework of the current cultural program, "A Creative Culture." To this end, a study by the European partners Fondazione Fitzcarraldo, Culture Action Europe, ECCOM Progetti, and Intercult has recently been conducted in order to answer the question of: "How to place audiences at the centre of cultural organizations". The authors have looked at a total of 87 projects in 25 European countries, but have not reached any surprising results: In most organizations, there is still a clear lack of understanding of a conceptually-based attitude towards their potential users. This understanding should also not be confined to a "marketing approach" such as a "missionary agenda," which is believed to be the sole possession of artistic truth.
Instead, they argue for a "long-term process that embraces the whole organization and is about the different types of audiences in a strategic perspective." Among other things, the authors recommend
the establishment of sustainable cooperation with educational institutions, but also with those of other professional groups, the development of artistic participation models with the active involvement of non-artists, the use of places where mixed audiences can more easily come into contact, and above all, an improvement in the knowledge about those they might interact with as future recipients.
In a nutshell: in most European cultural institutions there is still a blatant lack of awareness of their audiences; what is more, we must assume that the people working in cultural institutions are far too often not even interested in learning more about their audiences. It almost seems that ignorance in this respect is to be proudly presented as a sign of distinction—and the often merely tolerated facilitators are required to compensate for the associated consequences as best as they can.
You Should Recognize her at the Bar
A lot of important information could be gathered with enough curiosity. An example from my personal sphere: My daughter has a student job in a Viennese concert organizer's restaurant. She reports that the core audience's different communication and consumer behaviors can be used to identify the background of different music genres. I am not aware of the fact that this information is used in any particular way, which would be worth a separate study. I was very fascinated by an article in the journal Merkur from the year 1995 on the subject of "differences". The US-American sociologist Paul Fussell reports on his very enjoyable journey through the American status system along the outward appearances of people of different social origins. His contribution is not without stereotypes, and yet I always find myself, upon observing my respective fellow visitors, noticing that, many of them look and act differently, and also express approval or rejection in different ways, depending on the location or the program. Put simply: audiences collectively represent a distinctive phenomenon, where they are just as diverse as the artists they came for.
I have to admit, I did not learn many new things about audiences from the study. With the help of a largely self-organized grid, the authors distinguish between "Audiences by habit," "Audiences by choice," and "Audiences by surprise." While the former are accustomed to being part of an audience, the latter groups—without being socially or culturally disadvantaged—are so busy with other things that they rarely find the time and leisure to take notice of a cultural offer. On the other hand, the surprise audience feels tacitly culturally excluded, and feels that the cultural offers tend to be created against them, and therefore need a special approach.
The Elite and the Many
The more intensively I engage with the aspect of Audience Development (The Cultural Management Education Program of the University of Hildesheim has created a separate subject area with Birgit Mandel), the more I suspect that we are dealing with a fundamental democratic policy problem. After all, we have been confronted with a largely irresolvable contradiction in cultural policy for at least a hundred years. This is the fact that culture is traditionally represented by a small, educated, and affluent elite who, with their participation as informed and interested users, carry the cultural sector. And then there is the great rest of the population, which was originally denounced as "cultureless" and excluded, and subsequently put under the general suspicion of only having interest in easily consumable, commercial mass culture. With the reconsideration of class relations, the dividing lines have become softer, and yet they continue to work in a sustained way and do not really seemed to be questioned by cultural policy concepts in favor of a "broad cultural understanding."
The Available Cultural Representations Forms of the Liberal Elite
Just as before, the state continues to privilege the cultural forms of representation of an informed elite. However, the legitimacy has changed. The current argumentation strategy is to involve not only oneself, but all other parts of the population (especially socially disadvantaged, lower educated groups, migrants, and youth,…) in the frame of reference for creating cultural events, although without ensuring any necessary improvement for new social conditions. In the meantime, mediators of all artistic disciplines (who mainly come from these elite contexts themselves) have either eagerly or desperately struggled to interest people in something, that in no way corresponds to their ever-worsening social situations and where they do not bring the requisite educational requirements (a circumstance that cannot be compensated for in short-term, otherwise more attractive projects).
This fundamental social dilemma—which seems to me to be constitutive of any mediation effort that attempts to go beyond existing social barriers—does not exclude individual success stories as a cultural-political strategy; it is driven by an idealistic longing, for the offered, and in some cases highly elaborate, cultural activities, to be able to be understood by everyone, and for me it seems doomed to failure now more than ever. At the other end of this tense relationship is the claim that each social group creates its own cultural forms of expression and emancipates itself from the state-dictated cultural domination of a self-proclaimed elite with this capacity of cultural self-responsibility. In terms of cultural policy, this would mean abandoning hierarchical aesthetic quality concepts in the future and relying instead on a comprehensive diversity of cultural forms of expression alongside their different social circumstances. In doing so, the existing privilege of a small group of specifically culturally-minded people would be called into question.
The cultural policy tactics used so far have attempted to avoid confrontation in this respect and to warn of an "envy-based society" in order to keep the same results. This is all the more the case as the cultural elite have thus far benefited increasingly from hiding under a liberal mantle and the assertion that everything can exist side by side (in any case, as long as the subsidized flows have not been redirected at their disadvantage). The truth, however, is that young people living in precarious circumstances pay the full price to see their favorite band in concert, while wealthy opera-goers will receive massive state support in the realization of their taste preferences.
Culture as a Democratic Political Problem: Representative versus Direct Democracy
With the current strengths of right-wing populist movements in Europe (which, in my view, are essentially the result of an intensification of social inequality), the cultural sector is also under a new imperative: That entails, on the one hand, the growing demands of a representative culture against the demands of taking culture into one's own hands. The associations of the demands of right-wing populists, forms of direct democracy (with their authoritarian character) against the old system of representativeness are obvious.
In this contrast between representational and plebiscite forms of democracy, culture is suddenly found again. And it is only too easy to let those who stand for the continuation of a state-privileged cultural sector get away with the assertion that they are at least indirectly there for everyone, as out of touch beneficiaries of disproportionate relations stand there. This information is not especially helpful, as right-wing populists would limit possible alternatives to a nostalgic look back at their supposedly homogenous national culture, that has never really existed.
Audience Development is not Possible without Societal-Political Stances
In the face of the dramatic political and social turmoil that is shattering Europe at the moment, I would have liked the Audience Development study to have at least discussed these political implications, which, in my opinion, have a decisive influence on cultural behavior. Nevertheless, the recommendations provide hope that the efforts for Audience Development will encourage a new understanding on the part of the cultural sector for its users. The young director at the Vienna Burgtheater may not say, "I love the audience," after reading the study; It would be enough if he were in the growing chorus of those who can say of themselves: "I am curious and am interested in the audience." This attitude change will be decisive for the continuation or further development of what we now know is the growing legitimization need in the cultural sector.
P.S .: Irene Knava and Thoas Heskia have been intensely involved with audience in recent years. Kava has also published a book on this subject with the publisher facultas and offers occupation ISO-certifications.
P.P.S.: In the Anlgo-American countries Audience Development has a long tradition. That these efforts have not led to liberal attitudes in the majority in terms of cultural identity has been made painfully clear by Brexit.
April 24, 2017
Sorry, this entry is only available in Deutsch.
March 23, 2017
Sorry, this entry is only available in Deutsch.
March 9, 2017
Sorry, this entry is only available in Deutsch.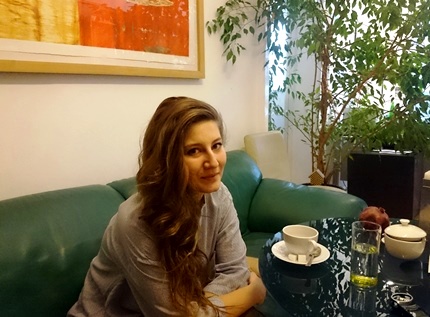 February 27, 2017
Sorry, this entry is only available in Deutsch.
February 23, 2017
Sorry, this entry is only available in Deutsch.
January 25, 2017
The singer Golnar Shahyar and the guitarist Mahan Mirarab have become an indispensable part of the so-called " world music" scene. Born and raised in Iran, the desire to become professional musicians, brought the duo to Vienna. For several years, they have been performing on different stages in Europe, in different musical arrangements (Golnar & Mahan, Aseman, Sehrang, Choub, Vienna World Music Orchestra, etc.). They tell "stories with music from the world, in different languages".
In conversation with EDUCULT, the pair reveal the role of jazz music in Iran and how they are able to frequently think outside of the "world music" box.
EDUCULT: What brought you to Austria?
Golnar Shahyar: The music. Before I arrived here, I lived in Toronto for nearly seven years. I studied biology there, but then decided that I wanted to pursue music, because it is my passion. Back then my parents were living in Vienna already for professional reasons. Then I came to them and into the land of classical music, which was very interesting to me at that time and which I wanted to study.
Mahan Mirarab: It was similar for me. In Iran I had the feeling that many doors were closed for musicians. I wanted to build more of a future and therefore made the decision to come to Vienna because of music. Here I started slowly as a self-employed musician. I didn't just play jazz, but also traditional Iranian music. I just wanted to work freely and without stress, and I managed to build a new life here, step by step.
EDUCULT: Were you also involved with jazz music in Iran?
Mahan Mirarab: Yes, but it was very difficult—you cannot survive on jazz there. The scene is quite small and "underground," but very interesting. But I did not see a future for myself in order to develop further. The mentalities, especially of classical and traditional Iranian musicians, are very conservative and it is difficult to make something different.
Golnar Shahyar: There is no official scene for jazz or alternative music developing in Iran. Although there are so many elements, and there is so much potential, this great talent remains untapped. The musicians and artists need financial support to be able to continue working. They need official organizations in which they can exchange and develop together. Such possibilities are simply not available in Iran. It is unfortunately the complete opposite. The artists are constantly confronted with censorship and political and cultural oppression.
EDUCULT: Is training available for jazz musicians in Iran?
Mahan Mirarab: No, not for jazz.
EDUCULT: That means, there is an explicit cultural policy that says it can be done somehow at home or on a smaller scale, but it is not part of Iranian culture?
Mahan Mirarab: Exactly, jazz is "underground" and there is actually no law concerning it. That's the problem. In Iran there is no clear law stating what is allowed and what is not.
Golnar Shahyar: The term "jazz" is often already problematic, probably because it comes from the USA.
Mahan Mirarab: I recorded an album here in Vienna and wanted to release it in Iran. It is called the "Persian Side Of Jazz". But I had to change a lot, the text, the title, the cover, etc.
EDUCULT: That means the authorities are involved in the details, not only what is produced, but also how it is then released?
Mahan Mirarab: Exactly.
EDUCULT: You first said you came back from Canada to study classical music. And now things appear to have turned out a bit differently…
Golnar Shahyar: Totally different. When I was 17 years old and emigrated to Canada with my family, I only took traditional and classical music forms seriously. I did not know jazz at that time.
EDUCULT: Did you also study classical music here in Vienna?
Golnar Shahyar: No, not right away. I tried, but I did not know anyone at first. Then through a few acquaintances, I found a teacher who taught classical, but his way of teaching and his mentality were not for me. It had nothing in common with the original reason why I decided to make music. For me, music was something very holy, very personal, and I think then I was looking for an identity. Music has a lot to do with my own identity and these lessons did not help me in this sense. Then I found another teacher. She was herself. She has her own music and can live from it. She has also expressed her own personality in her music. That has really inspired me.
EDUCULT: What do you think made entering the Austrian music scene with your background generally possible? You have been very successful and have won prizes. Has the Austrian music scene been waiting for you?
Mahan Mirarab: Actually there are very positive sides, but also negative aspects. The positive side is that I know a lot of good musicians, who are also great people, open people. I feel at home when I am playing with these musicians and simply talking to them. But there is also competition with both Austrian and non-Austrian musicians and you really have to fight for your place in the scene.
EDUCULT: Where do you think this conflict comes from? Is it because you're making different music? Or could it be more personal, based on your ethnicity?
Mahan Mirarab: Those in the music industry want to sell music as easily as possible and earn as much as possible. And our music is not so familiar for Austrian ears. The Austrians have heard a lot of Balkan music and also a lot of Austrian folk music, but oriental music is still something new to them. Some say after the concert, for example, that it sounded a bit funny. I understand that too. But you just have to get used to it, listen and be open. With the many people who have fled, e.g. from Iraq or Syria, many good musicians have also come to Austria.
EDUCULT: Would you say that the Austrian music scene has changed with you a bit?
Golnar Shahyar: I can't answer that yet. I believe that change takes place in Austria very slowly. There are small scenes that do not intermingle at all. For me, it is comparable to different ethnic groups, which also remain among themselves. Our place is within the world music scene, which is determined by a few players in the music industry. In my opinion, the understanding of music that comes from another country or sounds different is very superficial. In Austria the concept is very, very much – for example, that of multiculturalism. It is sometimes enough to have several people from different countries. But whether the music really fits and works with the quality, whether it really creates a new sound or a dialogue between people is secondary. I think some in the industry do not want to take the risk, and they know little about what is happening internationally. And many musicians are there. You have to survive somehow.
EDUCULT: Do you make Austrian music with a Persian background or Persian music in Austria?
Golnar Shahyar: Neither of the two. My personal musical background is not just in traditional Iranian music. I've always listened to it, and always have it stuck in my head, but I've also lived in Canada and also in Austria. I have influences from all of these countries and I am a person who likes to listen to everything that interests me. So I'm not specialized in Iranian, traditional music.
Mahan Mirarab: There is Persian, classical music, a traditional music that has its own rules. And the other side is the folk music played in villages.
Golnar Shahyar: And they each are very distinct. Many ethnicities and cultures are present in Iran. There is really musical richness, a treasure, within Iranian folk music.
Mahan Mirarab: We have learned a lot from individual projects and collaborations with other musicians, from Cuban, African, Indian, Austrian, Arabic, etc. This is also reflected in our music. We do not limit ourselves to "Iranians" or "Persian music" or jazz.
EDUCULT: But you sing in Farsi?
Golnar Shahyar: I usually sing in Farsi, but I have also begun recently to sing more in English, because I am not able to perform in it in Iran. I would like to communicate with my audience in a different way. It is different if they can also understand what I sing. But I also have the need to sing in Farsi because that is me, that is my culture and I have so much to say in Farsi. If something interests me and if I like a song in another language, then I learn it. So I also sing in Kurdish, Arabic, Turkish, Sephardic or Spanish.
EDUCULT: Do you consider specific target audiences in your music, such as people with Iranian heritage or other groups like refugees who have fled to Europe, and who can understand and speak Farsi?
Mahan Mirarab: No, I wouldn't say that. For example, we were invited to Switzerland to play for a group of refugees and they were totally disappointed with our music. I think we would need to change a lot of our music so that we can meet the taste of a target group based on their origin.
Golnar Shahyar: Our music is between worlds, just like ourselves. We do not belong to Iranian society, we do not belong here, and we don't really belong anywhere. It is a musical identity that does not actually have a home. If we want to change that, we also have to change. That is to say, if I were to focus on the taste of a particular audience, I would have the feeling that I had to hide my own artistic identity. I am a mixture of all these experiences that I have had, and all future ones. We do nothing specific for a target group. We are who we are.
Mahan Mirarab: The question is also whether it really helps people when we change and make music to suit their taste.
Golnar Shahyar: It is also the question of whether one thinks of music as entertainment or as an extension of culture, as a bridge between people and cultures. Do we really want to make entertainment music that is based on making money, or do we have a message that we want to transport through our music?
EDUCULT: Music as a part of home and your own identity may not solve problems, but creates moments of confidence and well-being, and then has something to do with entertainment. How are you going to develop your own, individual, artistic profile from all the different facets?
Golnar Shahyar: The experience of leaving your home is incredibly difficult, especially if you do not have any better choice. In Iran, I've never listened to traditional music, I've never been interested in Iranian pop music, but in Toronto this was an every day thing. I have only found my way to Iranian music outside of Iran. This is totally natural, the music awakens memories and you feel comfortable. This has its meaning. But I have not lived in Iran for fifteen years, and I believe I have developed further. At some point you have to adapt and get to know what is new. But there are also some people who do not know how and this can last years. I was also younger and therefore more flexible.
EDUCULT: Are you Iranian, are you an Austrian, or do you see yourself as cosmopolitan?
Golnar Shahyar: This is a very difficult question. My roots like my native language and some characteristics are influenced by Iran and everything else changes constantly. So, I see myself as cosmopolitan.
Mahan Mirarab: I feel like an Iranian, but I grew up in Tehran, a city, and my environment was shaped by both Western music and art, as well as Iranian traditions. I'm not a real Iranian-traditional musician. But I am also not a real jazz musician. I have also lived in the north of Iran for four years in a very conservative and religious small town. I have also seen these things and know many aspects of Iranian culture. But I feel at home everywhere I go. We also travel a lot and I am very interested in different cultures and would like to get to know new things.
EDUCULT: You now have some years of experience not only in Austria, but also internationally, where you perform. Would you call something typically Austrian, in contrast to the music scenes in other countries such as the USA, Switzerland, etc.? Are there other rules?
Golnar Shahyar: Yes, the rule of the game are different everywhere. Sometimes this makes a big difference. In countries where transculturalism is much more successful, these rules are less restrictive. There is a much better understanding of the unfamiliar and therefore less judgment and categorization.
EDUCULT: What is special about the small Austrian scene? What do you particularly like about the music business here? What makes you stay here too? You could probably go to Germany or to France tomorrow.
Golnar Shahyar: It isn't that simple. Emigrating again is really a big decision. The scene in Austria is small and self-contained. This, of course, includes great competition. The need to open up to learn things differently is a great investment in energy and also money that many do not want to make. To get to know the unfamiliar has to give something in order to get something back.
Mahan Mirarab: One must also say, that Vienna is a great city with a high quality of life. I have many good friends here, I am very happy with my circle of friends, and try to build bridges for myself personally. Not only musically, but also on a human level. It's not about how well a person plays; it's about how well we play together. There are many refugees from Iran, many different people coming together, whether from Austria, South America or Africa, and I feel that I am doing something here in my small district. That makes me happy.
EDUCULT: What are your future plans? Where is the journey going?
Mahan Mirarab: We have recorded an album, which will be released soon. We also started a new project with the Israeli flautist Hadar Noiberg, which is very interesting for me. In Iran, for example, it is a taboo to work with an Israeli. We also learn a lot from each other musically. I have my own band, a quartet and we also have many international concerts.
EDUCULT: Can you imagine that your life will be anchored in Austria now?
Golnar Shahyar: This is a question we often ask ourselves. To be honest, it is hard to say because I have not lived anywhere else as a musician. I don't know. But as I see it, it is difficult to get recognition for our music here. There is, for example, the Austrian World Music Awards, but that's exactly what I mentioned before. It is a limited, superficial "box" that is evaluated there. I have the feeling that we would only be there to show that diversity exists. It's difficult here, but on the other hand, we've managed it somehow. We live from our music. Maybe it will be easier. Despite all this, I find that in many European cities like Vienna, culture is very important and I do not take this for granted. I am aware of this and appreciate it very much.
Mahan Mirarab: Sometimes I think about leaving Vienna, that I want to live somewhere else. But I want to find my balance and then make a decision.
EDUCULT: You often talk about the difficulties of finding balance, and share your courageous attempts to work with an Israeli artist. How do you feel about the social and political environment in Austria?
Golnar Shahyar: I already have the impression that we always receive an exotic label, and that no one sees us for who we really are. We have not yet succeeded in establishing a connection with an Austrian and especially with a young audience. Of course, there are also always some individuals who really know each other. I think a very important aspect to feel at home is the feeling of being connected to the environment. But there are also these walls, which make it very difficult. It is hard to get away from these boxes and labels. Sometimes I feel that I slowly see myself entering such a box.
Mahan Mirarab: I believe that the politicians in Vienna and the event managers could already help to create a good connection between people of different origins. But unfortunately, I observe that there are many projects with a large budget, where immigrants are used as objects. They play a concert and that was it. After the concert we want to talk with the people, we want to get feedback, but there is very little in Austria.
EDUCULT: Do Austrians avoid contact?
Golnar Shahyar: Yes, if they do not know something, they may feel a bit unsure. But once a trust base is established, the friendship is long lasting and honest. I really appreciate this aspect of my Austrian friends. I think Austrians, who have already had the experience of living outside Austria, are different. But because most people are doing well here, they do not have the need to leave the country. This is great, but that also has the negative side that you are not dealing with something else, although that could be important for the social development. The reality, especially in Vienna, is multicultural. There are so many interesting things, but why does communication struggle to actually take place?
Mahan Mirarab: There is an African community; a Chinese community, an Iranian community and some Iranians cannot speak German even though they have lived here for 30 years. Politicians could help build bridges. There are the events, there is a budget, everyone gets funding, everyone is happy. Afterwards, all go home and forget what we they did, what steps were made.
Golnar Shahyar: I believe that decision-makers in the cultural field should have a deep understanding of other cultures. This connection can then also slowly take place at the cultural level. At the moment there is too much money for superficial projects.
EDUCULT: Your recommendation would be that the Austrian musicians should also travel beyond Austria to gain experience?
Golnar Shahyar: Definitely. I can say we connect really well with the Austrians, who either have partners who do not come from Austria or who have lived outside Austria. For the others it is a bit difficult.
EDUCULT: What would you consider to be a positive development for you, your ideal place in five years?
Golnar Shahyar: I would like to deal more with such questions. For me, good communication is particularly important. My goal is that, despite all these obstacles, it is getting better and better. I see the importance of what I am doing, and I would like to bring together different disciplines and work with different people, helping to create a basic understanding between different cultures. I am just like that; I have these different cultures in me. I desire to become more active in this direction.
Mahan Mirarab: I would also like to work with new people, learn new things, of course earn more and not only survive, but build a quality life here.
EDUCULT: Thank you very much for the open and interesting conversation!
Next performances in Vienna: